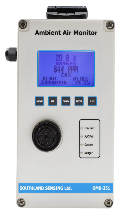 OMD-351-O2-CO2 Ambient Air Oxygen/Carbon Dioxide Monitor
The OMD-351-O2-CO2 online dual oxygen and carbon dioxide monitor combines a rugged CE marked wall mount design with SSO2's precision sensor technology.  The unit is designed to safely measure breathing air oxygen and carbon dioxide in confined spaces.  The unit comes with a 0 – 30% oxygen concentration and 0 – 10,000 parts-per-million full scale measurement range.
The sensors are based on the galvanic electrochemical fuel cell principal and are manufactured in house under a strict quality procedure.  The sensors are long life, self contained and minimal maintenance is required – no need to clean electrodes or add electrolyte.  The precision sensors offer excellent performance, accuracy and stability while maximizing the expected life.
The electronics are feature packed with an easy-to-use menu interface and many additional safety features built in.  Power is supplied via 100 – 240V AC and comes standard with a battery backup.  Alarms are ran through a loud integral audible alarm as well as 2 non-latching relay contacts.  Warning LED's are standard on conveniently located on the front panel.
The eggshell painted aluminum enclosure is designed to be wall mounted and meets IP66 / NEMA 4X ratings for indoor and outdoor installations.
Specifications
| | |
| --- | --- |
| Accuracy: | < +/- 1% of Full Scale Range* |
| Analysis Range: | 0-30% O2, 0-10,000 PPM CO2 |
| Certification | CE Mark |
Features
0-30% O2, 0-10,000 PPM CO2

Concentration Range
Large Backlit Display w/User-Friendly Menu
Integral Audible Buzzer Alarm

Electrochemical Sensor Technology
Applications
Enclosed space monitoring
CO2 beverage gas distribution

Download
Click Here to download the PDF